Kid boxing is for all ages and parents are welcome to join in.
Boxing Cardio + Technique are traditional boxing fitness classes with focus on developing actual boxing skills.
15 Rounds Boxing (FREE FOR GYM MEMBERS) is a 1-hour class run off an interval timer with 3 minutes of work followed by 1 minute of rest you will definitely need. Each round is different and mimics actual fight training.
Teachers Only Boxing is, well, open only to teachers. They have lippy kid frustration to deal with in private.
Boxing and Weight Lifting Orientation classes are open to members and non-members. Boxing Orientation will go over basics such as wrapping hands, punch numbers, defense, etc. Weight lifting will cover whatever the group needs to learn like lift techniques, workout tips, equipment usage, etc.
Meet the Team
Travis Tilton
Owner/Operator & Boxing Instructor
Travis has been a gym rat for 30 years and opened AlphAs based on what is fun and effective. Ask him for weight training suggestions or to do some controlled sparring.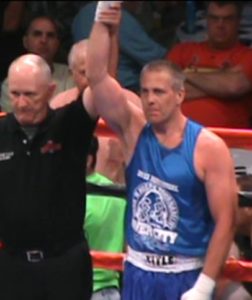 Ryan "Dangerous" Davis
Professional Boxer & Instructor
Ryan has fought in the squared circle since a young age. He has enjoyed a successful pro career and runs the most physically demanding boxing classes based on how real fighters train.